by Josh Stock
Every year hundreds of people attempt to climb 29,035 feet to the highest point in the world, the summit of Mt. Everest and every year hundreds of sherpa guides, porters and yaks make sacrifices to get them there. Without their help, most wouldn't make it to the top alive, and many of them don't come back. The life of a sherpa and porter comes with great risks. Most climb to provide for their families.
My classes talk about all of this while we read the novel Peak by Roland Smith. At one point in the book the main character, Peak is being filmed for a documentary and the film crew doesn't want the sherpas, porters and yaks interrupting the shot. Peak yells at the film crew. He explains that without those sherpas, porters and yaks, none of them would be able to climb Mt. Everest. They help carry the needed supplies up the mountain and help guide the climbers when things get tough.
The sherpa guides help lessen the load of the climbers. After we discussed this point in the book, I asked the students: Who are your porters? Who can you not survive without? Who helps carry the burden when things get tough?
They came up with a list of people (mom, dad, teachers, etc.). Then I asked them to dive even deeper: Did you enjoy lunch today? How did you get your lunch today? Do you enjoy going to a clean school? Who do you think cleans it each day? We brainstormed even more people who help out throughout the school day. It was a great moment. They reflected on a lot of people who work behind the scenes to make what we do possible. At the end of the hour I challenged them to find a way to thank those people for making the school day great.
If you like what you have been reading continue at Josh's Site: Mr. Stock Rocks
---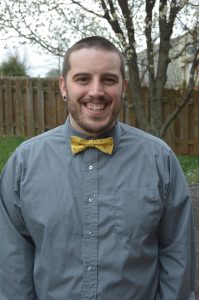 My name is Josh Stock. I'm a 6th grade Language Arts teacher and Awesomeness Expert from Olathe, KS. I just wrapped up my 10th year of teaching, and I have taught a little bit of everything relating to Language Arts including: 9th grade English, 6-9th grade Reading 180, Reading Seminar, and Newspaper.
I have a Bachelor's of Science in Education, English from Emporia State University and a Master's in Instructional Design and Technology also from ESU.
My wife Jenica is a 5th grade teacher at Washington Elementary School. We also have 2 kids, Oliver and Brooklyn.